Bistik Omelette
A tantalisingly fluffy omelette dripping with beef gravy…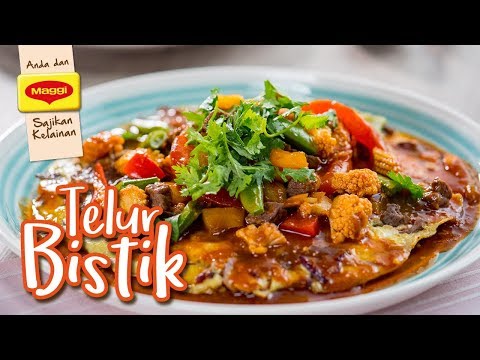 Ingredients
| | |
| --- | --- |
| A: |   |
| 1 tbsp | Cooking oil |
| 1 pc | Shallots, sliced |
| 50 g | Beef, finely chopped |
| 4 pc | Eggs |
| ½ tsp | MAGGI® CukupRasa™ (mixed with eggs) |
| B: |   |
| 1 tbsp | Oil |
| 5 pc | Shallots, pounded |
| 3 cloves | Garlic, pounded |
| C: |   |
| 400 g | Beef, diced |
| 3 pc | Bird's eye chillies, sliced in half |
| 50 g | Cauliflower, chopped |
| 3 stalks | Peas, chopped |
| 2 stalks | Baby corn, chopped |
| 50 g | Red bell peppers, finely diced |
| 50 g | Yellow bell peppers, finely diced |
| 1 pc | Tomatoes, cut into wedges |
| D: |   |
| 2 tbsp | MAGGI® Tomato Ketchup |
| 2 tbsp | MAGGI® Chilli Sauce |
| 1 tsp | Dark soy sauce |
| 50 ml | Water |
| 2 tsp | MAGGI® CukupRasa™ |
Preparation
1. Heat oil, stir fry ingredients A and add egg to make an omelette.
2. Cover kuali and let the omelette cook over low heat so it remains fluffy in the centre and crispy on the outside.
3. Once cooked, place omelette on a plate and set aside.
4. Heat oil and stir fry ingredients B till fragrant.
5. Add ingredients C, stir till evenly mixed. Add ingredients D.
6. Let simmer over medium heat.
7. Pour beef gravy over omelette.
8. Serve hot with white rice.
Kitchen Tips: Use a flat non-stick pan to get a perfect omelette.
Nutritional Info
Energy 177 Kcal
Protein 14g
Fat 5g
Carbs 19g