Glutinous Rice with scallops and mushrooms wrapped with Lotus Leaves
Joy and Wealth Wrapped in A Bundle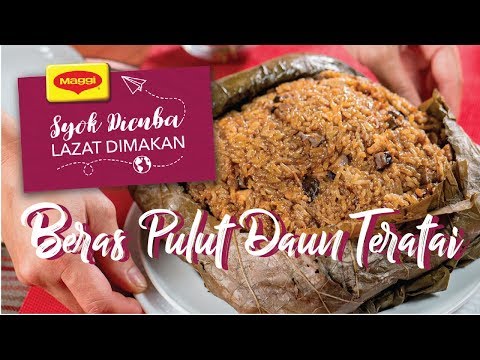 Good to Know
If you can't find dried lotus leaves, you can use parchment paper. This dish can be served with MAGGI® Chilli Sauce.
Ingredients
| | |
| --- | --- |
| 2 cups | glutinous rice, soaked in water for 5 – 6 hours, rinsed and drained |
| 4 pieces | dried scallops, soaked, shredded (retain soaking liquid) |
| 4 tablespoons | dried shrimps, soaked and chopped coarsely |
| 10 pieces | dried shiitake mushrooms, soaked and diced |
| 200 g | skinless chicken fillet, cut into cubes |
| 4 tablespoons | cooking oil |
| 2 | shallots, chopped |
| 3 cloves | garlic, chopped |
| 1 | MAGGI® Chicken Stock Cube, crumbled |
| 2 pieces | dried lotus leaves, soaked in boiling water for 5 – 10 minutes to soften |
|   | For the seasoning (mix together in a bowl): |
| 2 tablespoons | light soy sauce |
| 1 tablespoon | dark soy sauce |
| 3 tablespoons (or to taste) | MAGGI® Oyster Sauce |
| 1 teaspoon | sesame oil |
| 1 1 teaspoon (or to taste) | sugar |
Preparation
Firstly, drain the water that was used to soak the dried scallops and set it aside.

Add more water and make up to 2 cups of liquid. Then, mix the crumbled MAGGI® Chicken Stock Cube into it.

Next, heat 2 tablespoons of cooking oil in a non-stick wok or pan and stir-fry the chopped shallots and garlic until wilted. Then, add in the Shiitake mushrooms, dried shrimps, chicken and scallop. Proceed to stir briefly and add in the seasoning mix.

Stir-fry until cooked, about 4 – 5 minutes. Then, dish out into a bowl and set aside.

Using the same wok/pan, set on medium high heat, add in 1 tablespoon of cooking oil.

When the oil is heated, add in the glutinous rice and stir evenly for about 2 minutes. Next, pour in ½ cup of MAGGI® Chicken Stock liquid from (2) and keep stirring until the chicken stock liquid is fully absorbed.

Repeat the process above until the chicken stock liquid is finished. Then, turn off heat.

Add in the chicken and mushroom mixture from (3) and stir until it's evenly mixed.

Next, lay down the softened lotus leaf and spoon half of the sticky rice onto the centre of it. Fold it up like an envelope and snug the top flap underneath the package.

If necessary, fasten the package by tying with a kitchen twine. Repeat with the other lotus leaf.

After it's neatly wrapped up, place it in the steamer and allow it to steam for 20 minutes on high heat or until the rice is soft and fully cooked.

Unwrap the lotus leaf and enjoy this fabulous dish with the family.