Portuguese Style Grilled Fish
You don't need to travel to Melaka to try out this classic dish! All you need are some simple ingredients and you'd be able to prepare this wonderful and wholesome dish at the comfort of your own home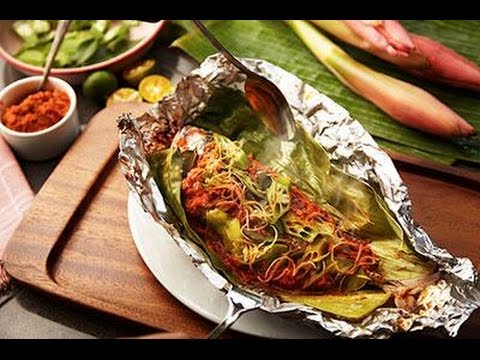 Good to Know
Limit your daily fat intake by opting for healthier cooking methods such as baking, roasting or grilling
Ingredients
| | |
| --- | --- |
| 500 g | mackerel, cleaned and guts removed, rinsed |
| 1 tablespoon | corn oil |
| 2 | onion, blended |
| 2 cloves | garlic, blended |
| 3 | candlenut, blended |
| ½ cm | galangal, blended |
| 2 stalks | lemongrass, blended |
| 3 tablespoons | blended chilli |
| 2 tablespoons | tamarind juice |
| 1 tablespoon | MAGGI® CukupRasa™ |
| 1 stalk | bunga kantan (torch ginger flower), sliced thinly |
| 3 pieces | kaffir lime leaf |
| 2 | lady's fingers/okra |
|   | Banana leaves, blanch in boiling hot water for 1 - 2 minutes |
|   | Aluminium foil, to wrap |
Preparation
Heat cooking oil in a pan and add onion, garlic, candlenut, galangal, lemongrass and blended chilli. Next, pour in the tamarind juice and sprinkle 1 tablespoon of MAGGI® CukupRasa™. Stir fry thoroughly until fragrant.
Lay the blanched banana leaf on top of the aluminium foil. Spread 1 tablespoon of the stir fried mixture over the banana leaf. Gently place the fish over it and spread the remaining mixture evenly over the fish.
Add the bunga kantan (torch ginger flower), kaffir lime leaves and lady's fingers and seal the aluminium foil tightly.
Bake the fish on a pan and make sure to cover it with a lid. The steam created in the foil will help cook it. When the fish is cooked thoroughly, remove from heat and let the packets to stand for about 5 minutes before opening.
When unwrapping the foil, make sure to be careful of the hot steam.
Enjoy the fish with steaming white rice.
Nutritional Info
Energy 257 kcal
Protein 18g
Fat 17g
Carbs 8g