Steam Grouper Fish
Fish that is steamed to perfection, accompanied by a delightfully healthy soup.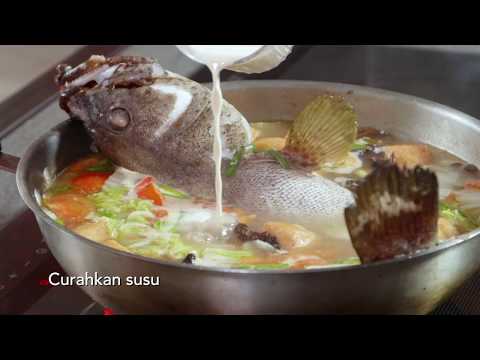 Ingredients
1 kg – 1.2kg (1 whole)
Grouper fish, cleaned
Oil, to sear on the fish
2 strings
Spring onion, sliced
 
 
A
 
2 liter
Water
20 gram
Ginger, sliced
4 cubes
MAGGI® Ikan Bilis Cube
 
 
B
 
100g
Carrot
150 g
Tofu pok, cut into half
100 g
Yam, sliced into cube shape 2 cm thick
100 g
Chinese cabbage, sliced roughly
100 g
Black fungus, pre-soaked
2 nos
Tomato, cut wedges
60 ml
Milk
 
 
Garnish:
 
Coriander
Sliced
Scallion
Sliced
Preparation
Preheat cubie oven, select HEALTHY STEAM mode press SET adjust temperature to 150˚C press START. 
In a wok, heat oil and fried fish for 1 – 2 minutes and set aside. 
After preheating the oven will beep 3 times and the icon "√" appears to infrom the preheat is done.
Put the fish in a pot or plate, sprinkle with spring onion and place in cubie oven lower shelf position and set 10 minutes press START.
In a pot, boil ingredients A, blanched ingredients B in broth A until and set aside.
Take the fish out and add in the broth. Cooked for 5minutes with blanched vegetables.
Serve hot.
Nutritional Info
Energy 210.8 Kcal
Protein 26.6 g
Fat 8.3 g
Carbs 7.7g