Yummy Chicken Rendang with Yogurt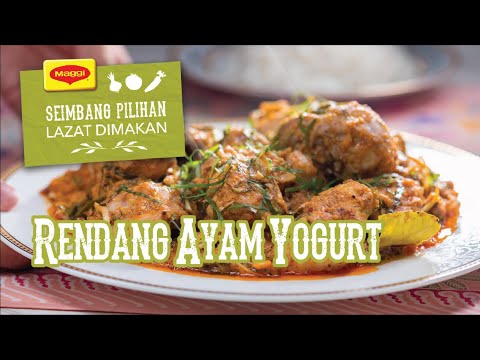 Ingredients
| | |
| --- | --- |
| 4 tbsp | Corn oil |
| A: (Blended) |   |
| 3 nos | Onion |
| 4 cloves | Garlic |
| 3 cm | Ginger |
| 2 cm | Galangal |
| ¼ cup | Chilli paste |
| 2 stalks | Lemongrass |
| ¼ cup | Water |
| 500 g | Chicken meat, cut into cubes |
| B: | shallots, finely grinded |
| 8 nos | Shallots, chopped |
| 3 cloves | Garlic, chopped |
| 2 stalks | Lemongrass, thinly sliced |
| 2 pcs | Kaffir lime leaves, ripe |
| 1 pc | Turmeric leaf (daun kunyit), sliced |
| 200 ml | Water |
| 1 tbsp | MAGGI® CukupRasa™ |
| 3 tbsp | Coconut milk |
| 2 tbsp | Grated coconut (kerisik) |
| 135 g | Nestlé Natural Set Yogurt |
Preparation
Heat oil, stir fry Ingredients A till oil separates and dries up.
Add chicken, stir fry chicken till partially cooked.
Add Ingredients B, mix all ingredients and cook for 10 – 15 minutes.
Add water, let simmer awhile. Pour in remaining ingredients.
Simmer till gravy thickens and darkens.

Kitchen Tip: For a healthier version that doesn't compromise on taste, replace santan with yogurt.
Nutritional Info
Energy 221 Kcal
Protein 26g
Fat 5g
Carbs 18g